Simple Linear Regression: How It works? (Python Implementation)
Linear Regression (Python Implementation)
This article discusses the basics of linear regression and its implementation in Python programming language.
Linear regression is a statistical approach for modelling the relationship between a dependent variable with a given set of independent variables.
Note:
In this article, we refer dependent variables as
response
and independent variables as
features
for simplicity.
In order to provide a basic understanding of linear regression, we start with the most basic version of linear regression, i.e. Simple linear regression.
Simple Linear Regression
Simple linear regression is an approach for predicting a response using a single feature.
It is assumed that the two variables are linearly related. Hence, we try to find a linear function that predicts the response value(y) as accurately as possible as a function of the feature or independent variable(x).
Let us consider a dataset where we have a value of response y for every feature x:

For generality, we define:
x as feature vector, i.e x = [x_1, x_2, …., x_n],
y as response vector, i.e y = [y_1, y_2, …., y_n]
for n observations (in above example, n=10).
A scatter plot of above dataset looks like:-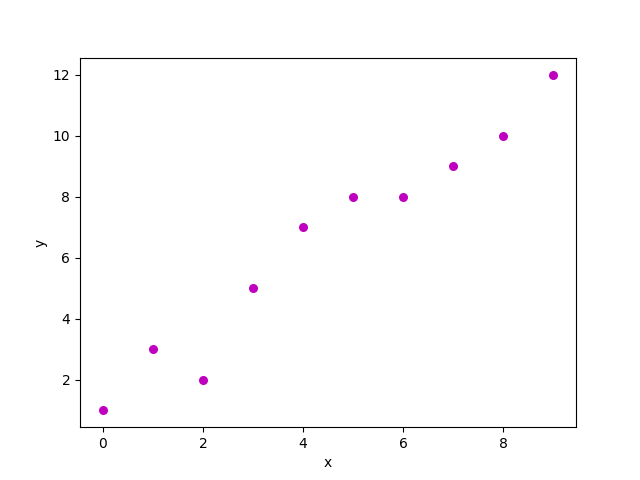 Now, the task is to find a line which fits best in above scatter plot so that we can predict the response for any new feature values. (i.e a value of x not present in the dataset)
This line is called the regression line.
The equation of the regression line is represented as:
Here,
h(x_i) represents the predicted response value for ith observation.
b_0 and b_1 are regression coefficients and represent y-intercept and slope of regression line respectively.
To create our model, we must "learn" or estimate the values of regression coefficients b_0 and b_1. And once we've estimated these coefficients, we can use the model to predict responses!
In this article, we are going to use the Least Squares technique.
Now consider:
Here, e_i is a residual error in ith observation.
So, our aim is to minimize the total residual error.
We define the squared error or cost function, J as:
and our task is to find the value of b_0 and b_1 for which J(b_0,b_1) is minimum!
Without going into the mathematical details, we present the result here:
where SS_xy is the sum of cross-deviations of y and x:
and SS_xx is the sum of squared deviations of x:
Note: The complete derivation for finding least squares estimates in simple linear regression can be found
here
.
Given below is the python implementation of the above technique on our small dataset:
The output of the above piece of code is:
Estimated coefficients:
b_0 = -0.0586206896552
b_1 = 1.45747126437

And the graph obtained looks like this: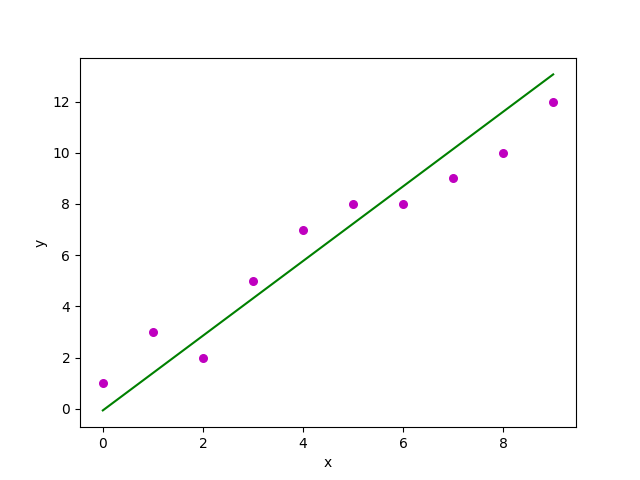 Full Machine Learning Series